On Monday, September 26, the Uniontown Public Library will host a free, interactive workshop to help visitors navigate Ancestry Library Edition. This event will be particularly suited to beginners, but even intermediate and experienced users may pick up some new tips and tricks!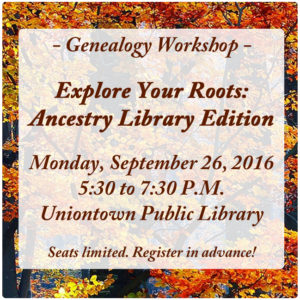 Access to Ancestry Library Edition is available at the Library for free. Visitors may use the public computers on-site or connect to the Library's WiFi using their laptop, tablet, or other device. For this workshop, participants are welcome to use their own devices if they prefer. 
The session will be lead by Joan Peake, president of the Fayette County Genealogical Society, and by Maria Sholtis, curator of the Pennsylvania Room.
The Ancestry Library Edition workshop will be held Monday, September 26, from 5:30 to 7:30 P.M. Seats are limited, so please register in advance by visiting the Pennsylvania Room on the second floor of the library.